Hey there, fur-ocious friends and branding enthusiasts! I am thrilled to share some unforgettable experiences at the 2023 Florida Pet Services Association Summit we attended just last weekend. As the creative force behind Decelle Branding, I had the honor of taking the stage and sharing my insights on effective branding within the pet industry and beyond. My team was right by my side throughout the journey, too! Here is a recap of what our busy week entailed:
The Florida Pet Services Association Summit
For those who don't know what the Florida Pet Services Association Summit is about: imagine a place where passionate pet lovers, talented entrepreneurs, and industry experts come together in a joyful celebration of all things pets. That's exactly what the association is all about!
From August 25th to 27th, this first annual gathering at the Floridays Resort attracted professionals from various sectors, including pet daycare center owners, grooming wizards, veterinary superheroes, and even suppliers of pet products and technology solutions.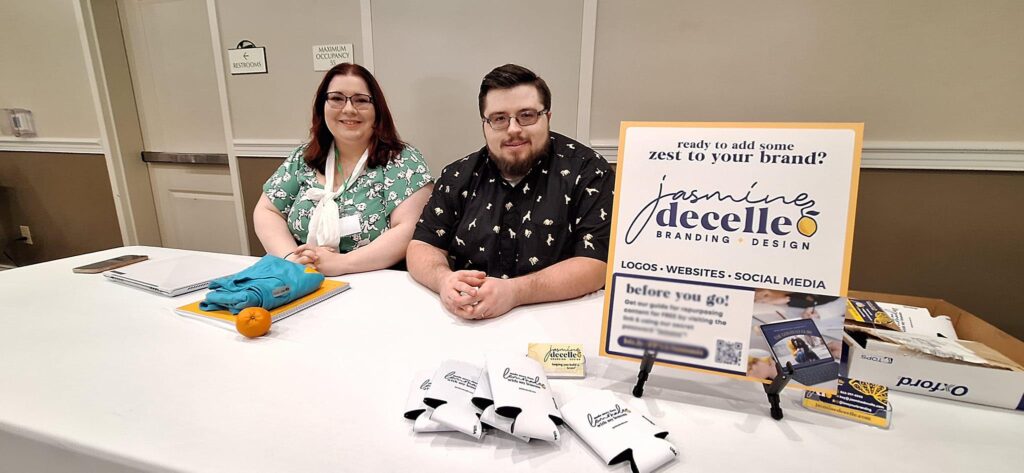 It was truly a melting pot of brilliance, where attendants united to sniff out exciting opportunities, exchange ideas, and learn from one another. Even other presenters had plenty to learn from sitting and watching other pros teach their craft!
We all love animals and being able to work with pet professionals is one of our favorite parts of owning our own business!
my barktacular presentation

Taking the stage at the summit was a bit different than my normal speech engagements. I'm pretty used to telling my story and how I got to where I am via my time with Pace School for Girls, but to train and teach in-person? You can bet I had sweaty palms ALL day leading up to my time to present.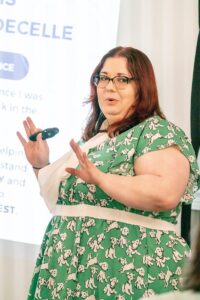 It got easier when I jumped into my slideshow and began sharing the knowledge I am confident in. With eager eyes and wagging tails, the audience soaked up my insights in my presentation, aptly named around what makes Paw-some Branding so paw-some. I emphasized the significance of a strong brand identity in helping pet businesses stand out in the competitive marketplace.
Through engaging stories, captivating visuals, and the occasional bark or purr of encouragement, I shared practical strategies to communicate the unique value propositions of pet businesses and create deeper connections with their target audience. A well-crafted brand can make hearts skip a beat, just like when your furry friend greets you with a wagging tail!
lemon folders, koozies, bookmarks galore!
Now, my dear friends, let me introduce you to the superpower behind the scenes: Justin, my partner and co-owner at Decelle Branding. Together, we made sure to leave a lasting impression at the summit by preparing Decelle Branding swag with a twist of lemon brilliance. We wanted every attendee to remember not just the insights they gained, but also the joyous atmosphere we created. When we realized attendants would be getting swag from the other presenters, we wanted to make sure everyone knew for a fact what belonged to us.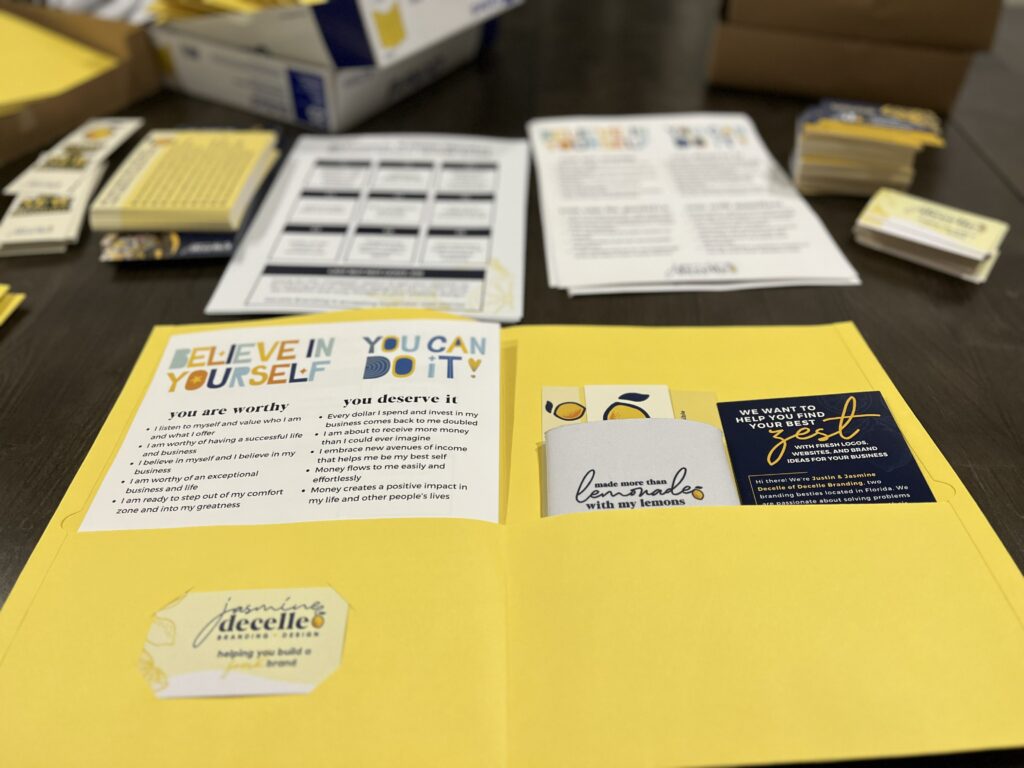 Justin diligently organized a delightful range of swag items we had created exclusively for the event, all wrapped up in vibrant yellow folders. Inside were koozies that I am particularly fond of, featuring the slogan "Make more than just lemonade with lemons". We also had magnets to jazz up fridges with some pet love, bookmarks for those moments of relaxation, and some important info sheets to help attendants better understand branding and the importance of website.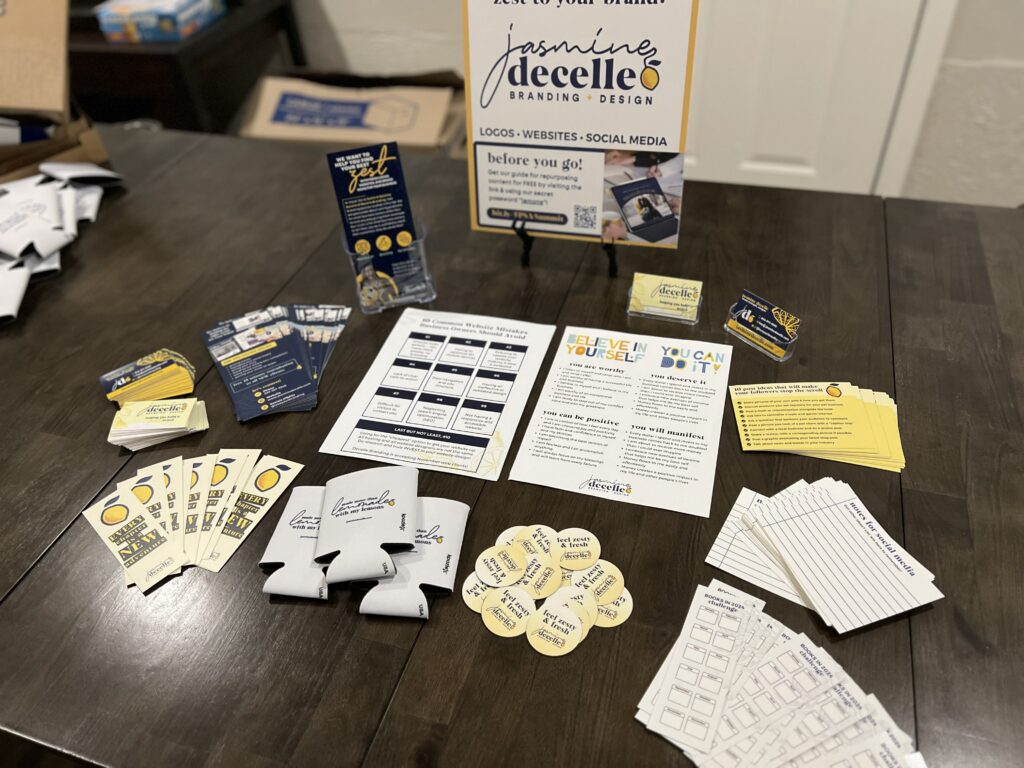 We knew that these small tokens of appreciation would not only bring smiles to faces but also serve as a reminder of the meaningful connections we made at the summit. I am happy to say that we had more than a few interested business owners approach us with great feedback and enthusiasm to work with us in the future.
the impact of the summit
Attending the 2023 Florida Pet Services Association Summit was a transformative experience. It allowed me to connect with pet business owners, passionate entrepreneurs, and industry experts who all share a common love for our furry companions. The summit reinforced the importance of staying ahead of the curve, continuously learning, and embracing the power of branding to stand out in a booming industry.  Personally speaking, I have always loved the work we have done with ALL of our many pet businesses over the last few years. Decelle Branding has done so virtually since we started, so having the chance to meet owners and experts in-person made for a really great experience. Will we be attending the 2024 Summit if they have us? You bet your butt we will!
By leveraging the power of effective branding, pet businesses can attract and retain customers, creating a lasting impact that resonates with both humans and their beloved animal companions. This mission is at the core of Decelle Branding's purpose: to make more than just lemonade with lemons.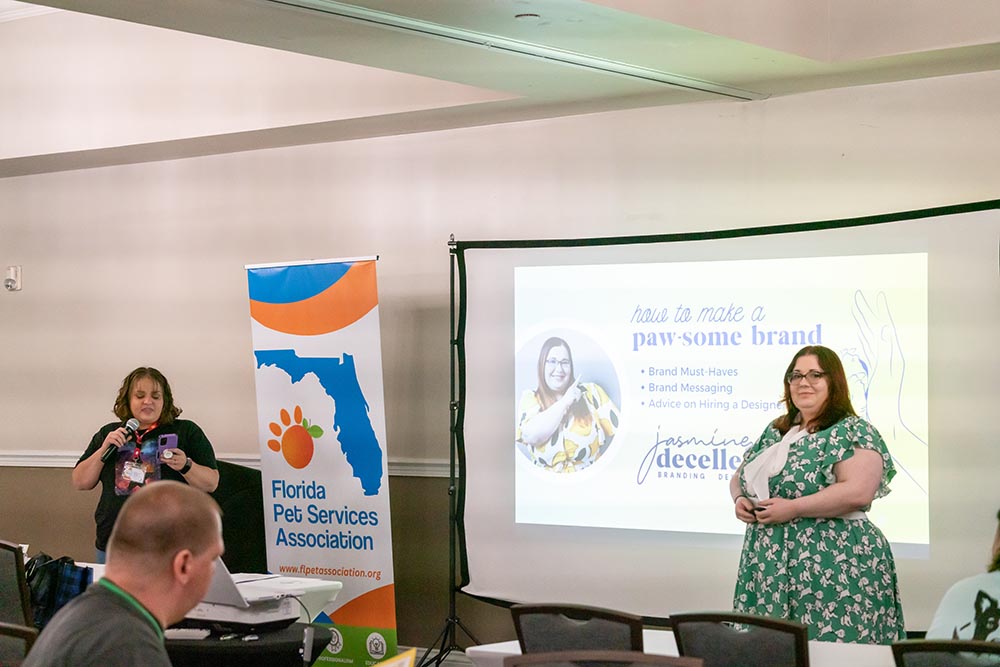 To all my fellow pet enthusiasts and small business owners — remember that your brand is the heart and soul of your business. It's your unique paw-print in a crowded world. As I reflect on our experiences at the 2023 Florida Pet Services Association Summit, I am filled with inspiration and gratitude. Businesses that focus and cater to our best friends and furry family members will always have a soft spot in my heart, so I am always going to be excited to help and work with as many as I can.
So with that said, let's unleash the power of effective branding together and create something truly extraordinary! Just like our doggies, kitties and more bring joy and companionship into our lives, let's ensure that our businesses shine brighter than ever before.
To anyone that attended the conference and/or spoke to us last weekend: be sure to contact me for your free 15-minute consultation! My presentation only scratches the surface of what we can do to boost your branding and maximize results in so many different areas. I'm always here to share tips, tricks, and belly rubs as we navigate this branding journey together!
Thank you to A Style Photography for all the amazing photography at the event!